Barcelona is one of the most important cities in Spain, a top travel destination, about 275 million people in 2015. Extremely popular, Barcelona can be found in almost any "Top cities to visit" guide within European capitals.
Barcelona is most famous for their city's football team (F.C. Barcelona) or Gaudí, even though its cultural offerings go well beyond them. Some of the Barcelona highlights can be found just by enjoying its main streets (Barri Gotic, La Rambla).
With regard to international event organization, shaped since the 1992 Olympics, Barcelona is ready to provide any service to academia or industry professionals. According to data from 2016, about 2000 events (1500 international ones) were held at the city that year. The prime example amongst them would be the Mobile World Congress celebrated in February each year.
Travelling to Barcelona
Arrival
The city airport is "Barcelona – El Prat Josep Tarradellas", but is often called just "El Prat" by the locals. It is located 12 km southwest from the city center, lying near the municipalities of El Prat de Llobregat, Viladecans, and Sant Boi. It has two Terminals (T1 and T2), interconnected by bus. The city centre (Plaça Catalunya) can be easily reached via public transport: several bus services, train (T2), metro, and taxi. You can see all the available options on the airport's website.
Accommodations
The city's hotel sector offers a variety of categories, hotel locations and services. It is possible to find classic, modern and minimalist hotels with their own distinct style, equipped with the latest technology for business clients, leisure facilities (gyms, spas, etc.), and hotels for family holidays. Tourist information
Moving around the city
Between the sea and a low mountain range, and with the help of its street grid (Eixample), it is also a very easy city to navigate by foot.
Barcelona is very well connected using a single fare system for bus, metro and train (note: this fare system does not include trips from/to the airport, special tickets must be bought). All the details can be found in the TMB (Transports Metropolitans de Barcelona) webpage. Once in Barcelona, there are several possibilities to reach the venue, which is located in "Plaça de les Glòries". The most convenient one would be to take the Metro red line (L1). The venue is just in front of the "Glories" stop, a few steps away.
Barcelona highlights
There are too many interesting places in Barcelona to be listed here, but among the most emblematic places we can find…
La Rambla – La Rambla, also called the Ramblas, is an emblematic Barcelona promenade that runs between Plaça de Catalunya, the city's neuralgic center, and the Port Vell de Barcelona. Walking along La Rambla you can admire several interesting buildings, such as the Virreina Palace, the Moja Palace, the Sant Josep or La Boqueria Market, the Old House of Figueras, the Teatre Principal and the famous Gran Teatre del Liceu, where operas and ballets are performed. The side streets also have a special charm. One of these, a few meters long, leads to Plaça Reial, with its palm trees and surrounded by porches under which there is a good number of breweries and restaurants, and where seal and coin collectors meet on Sundays.
Sagrada Familia – Not far away from the 22@ district (it can be seen from there), the Sagrada Família is a one-of-a-kind temple, for its origins, foundation and purpose. Fruit of the work of genius architect Antoni Gaudí, exponent of the catalan modernism movement, the project was promoted by the people for the people. Five generations now have watched the Temple progress in Barcelona. Today, more than 135 years after the laying of the cornerstone, construction continues on the Basilica and is expected to be completed in 2026.
La Pedrera and Park Güell – The heritage of Gaudí in Barcelona can also be found here. Casa Milà (popularly known as La Pedrera, "the stone quarry") is Antoni Gaudi's most iconic work of civic architecture due to both its constructional and functional innovations, as well as its ornamental and decorative solutions. The Park Güell is a large garden with architectural elements located at the top of Barcelona. It was, built between 1900 and 1914 and inaugurated as a public park in 1926. It has an area of ​​17.18 hectares (0.1718 km²), which means that It is one of the largest architectural works in southern Europe. In 1984, UNESCO declared the Park Güell World Heritage Site.
Camp Nou – The home stadium of FC Barcelona since its completion in 1957. With a seating capacity of 99,354, it is the largest stadium in Spain and Europe, and the third largest football stadium in the world in capacity. It hosts the FC Barcelona Museum and Tour (Camp Nou Experience), ranked #1 in number of visits by tourists.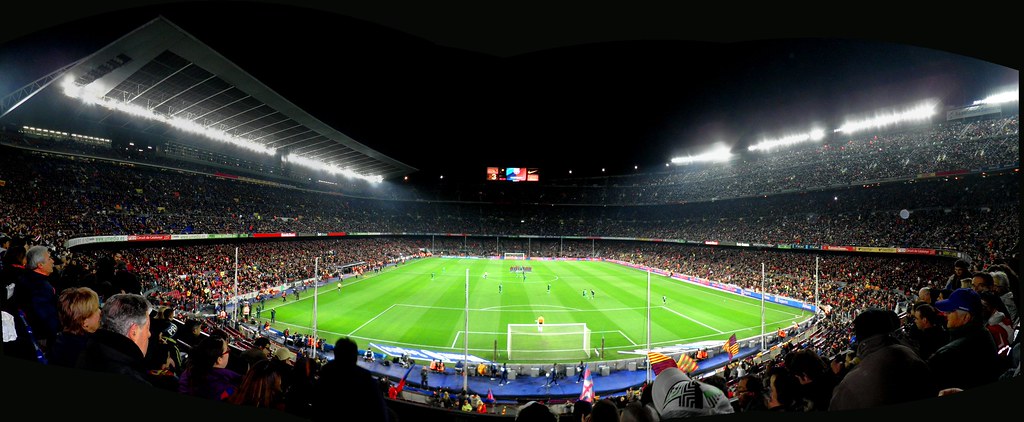 "Friki" district
If you are a subculture lover, the "Geek Triangle" of Barcelona is a must-see attraction.

Located in the area of Arc de Triomf, Passeig de Sant Joan and Ronda de Sant Pere, two subway stops away from the venue area, it began taking form in the 1980s with the first shops: Norma Comics, winner of the 2018 Will Eisner Spirit of Comics Retailer Award, and Gigamesh, Europe's biggest fantasy and science fiction book shop.
Norma Comics was founded in 1983. The more than 500m² (more than 5000 square feet) shop is visited by more than 50,000 people a year. It has areas dedicated to european and american comic books and manga. You will also find sections for children comic books, all kinds merchandising or a Tintin area.
The Spanish term "friki" (from the English "freaky", although it is probably best translated as geeky or nerdy) began being used to refer to people with what at the time were unusual tastes and interests, that have since become much more common in society at large.

To be a "friki" can imply a love of things ranging from video games to comic books, from war games to board games and role-playing, as well as TV series, films and fantasy books, for example.
Food
It is impossible to make justice to Barcelona's gastronomical offer in just a few lines, but here you'll find some suggestions at different interesting locations.
Close to the venue
If you want no complications, next to the main conference venue, just across the street, below the Glòries shopping mall, you can find El Mercat de Glòries, a food court with hip design and all kinds of restaurants for different tastes (Mexican, Japanese, Italian, local tapas, etc. ). For a higher quality restaurant that specializes in grilled meat, you can try Casa Aliaga, just in front of the mall. Other places that you can try are L'Artesana (they don't offer the fastest service, but real nice food). Going down Rambla del Poblenou you'll also find Can Recasens, a beautiful early twentieth century house, ideal for dinner (make a reservation, though, as with most places in the list, especially for dinner) if you like cheese. If you are a red meat eater, you can't go wrong with Argentinian Tierra del Fuego: not fancy at all, but the best meat. If you like authentic places, you can also try Monopol, which used to house a very small local football club playing nearby and keeps the original look. For fancy tapas, French style, try El 58 (there will be a queue, and they take no reservations, but it's still worth it). If you like Napolitan pizza, a little bit further down Rambla del Poblenou (on a parallel street, actually), you'll find Madre Lievito.
If you want to go for a drink… if you like craft beer, go for La Cervecita or Hoppiness. And for a fancy cocktail, there's always Balius (they've kept the facade for the shop that used to be there, but don't let it fool you).
El Born
The are many small restaurants and bars with a charm in ​El Born district, near Parc de la Ciutadella (and the "geek triangle"). El Xampanyet is just an example of a very popular one, in a very touristic location on the way to the Picasso museum. You can have all kinds of tapas there. Again, better to reserve first! For Asian food with a Barcelona touch, you have El Mosquito and Red Ant (they're small, so you might have to wait a bit to get a table). For a very good buguer, give Kiosko a go (it's very close to Estació de França, a beautiful train station).
For drinks, you can have a very nice selection of craft beers at Ale & Hop or have an auteur cocktail at Doctor Stravinsky.
Near Sagrada Família
Not far away from Sagrada Familia, Tasca i Vins is very well known for its specialty, a very broad selection of big loaves of bread with all kinds of food on top (locally known as "torrades"). Justf off Sagrada Família you can have a beer at arguably the most prominet Irish pub in town, Michael Collins.
Gràcia
North of the city center, you can find the district of ​Vila de Gràcia​, a village that was enveloped by Barcelona's growth at the beginning of the 20th century, but still keeps its original street structure. This is a very typical place to go out at night. Arrosseria Xàtiva specializes in different kinds of rice. Other places we can recommend are Kibuka, for Japanese food or La Vespa for burgers or La Rovira for "torrades" and craft beer. For a fancier drink, Velcro is usually crowded, but there is a reason for that…
Fancier places
If you are looking for something really special, not far away from Glòries, this is Manairó, a top notch restaurant by a renowned chef. Not cheap, however! There's no end of top level restaurants in town, but a couple we can recommend are Cera 23 or Ken. Ask us the local organizers for more recommendations, though!
Outside Barcelona
Barcelona is much more than a city. The province of Barcelona offers a world of possibilities to enjoy leisure activities, culture and nature.
Barcelona Coast, Barcelona Countryside and Barcelona Pyrenees are the three tourism brands used in the wider province of Barcelona, which has eighteen tourism areas including sea and beaches, inland countryside, art and cultural heritage, and enotourism, as well as the rich history of an important industrial past, of traditions, commercial activities, and more.